Virtual placements & internships
Virtual placements and internships
We are proud to offer a range of virtual placements and virtual internships with our host companies in Australia.
No need to worry about international travel restrictions or visas – you will work from your home in any country in the world.
Start any month and for durations of 2 months or longer.
Tell us the type of work experience you want to gain and we'll arrange it for you. There's everything from HR or Marketing, to IT or PR & Communications.
Finally you can make plans that won't have to change!
What' the process?
1. Tell us what you want. You will have a video call with our friendly staff in our Brighton office and then complete our Placement Questionnaire so we know exactly what you're looking for.
2.  We match you with a company. Our colleagues in Sydney will carefully match you with one of our partner host companies – most companies have already hosted several interns so they're familiar with working virtually and have a good track record.
3. Video call with the company. We'll arrange a video call with our proposed host company so you can ask them all about their company, your role, training, and their expectations before the placement or internship is confirmed.
4. Confirmations. Our Brighton staff will confirm your exact start date, working hours and help you prepare for working with a company on the other side of the world!
5. You start! It's real! Throughout your virtual placement or virtual internship you will receive training, guidance and support, feedback on your work and weekly meetings with your work supervisor…all online using Zoom / Skype / Whatsapp etc.
You'll also have as much contact with us as you want. We'll invite you to monthly Zoom calls to get your feedback and swap experiences with our staff and other interns.
Here's our colleague Robbie in Sydney explaining more:
What are the benefits of a Virtual placement?
This infographic shows the main benefits of our Virtual placements and internships: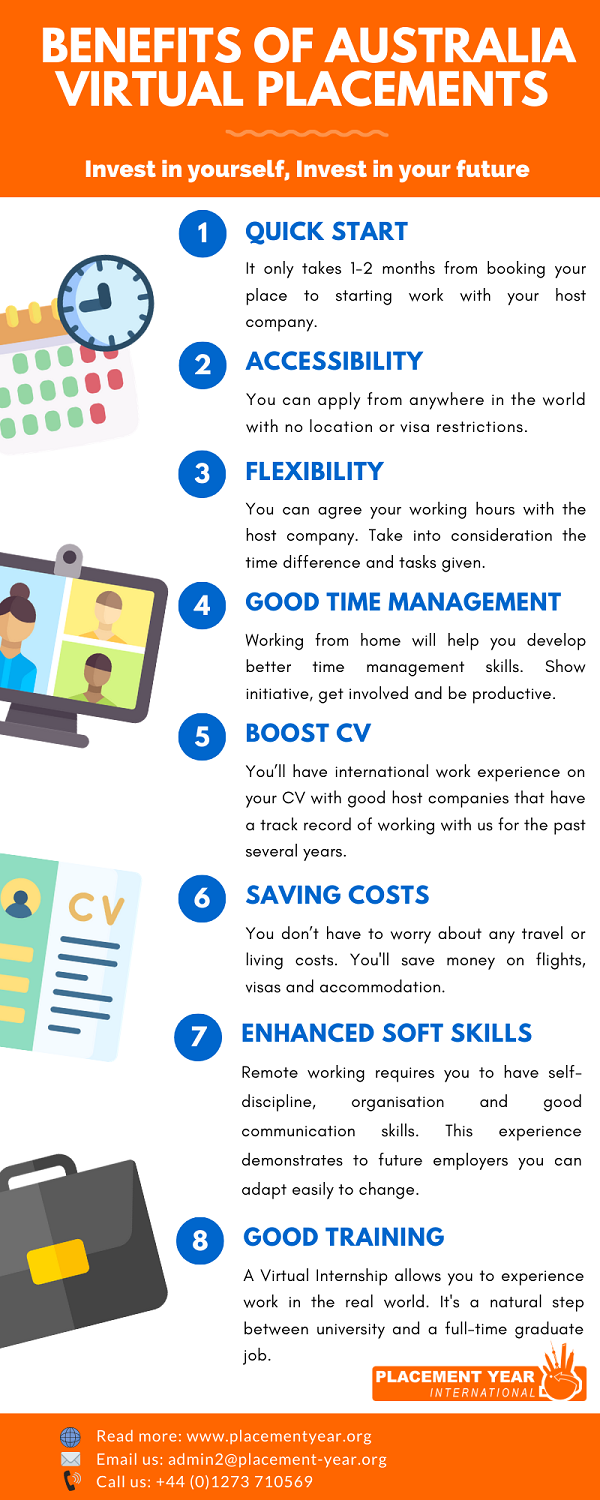 Find out more
You can read full information here.
Got a question or want to arrange a video call to discuss more?
Email us at info@placement-year.org or send us a message and we'll reply within 1 working day!
We are here to answer your questions. Send us a message or call us on +44 (0)1273 725868.
We have hospitality placements available with prestigious global hotel brands and many other businesses.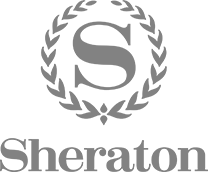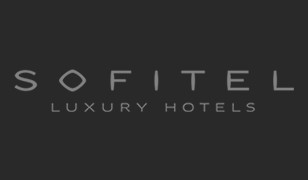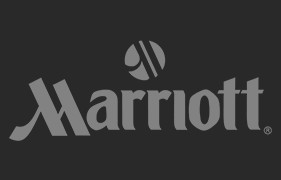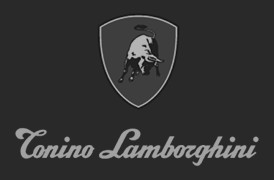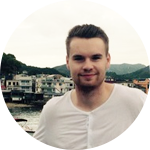 "I wanted to personally thank you for all the help you've given me the last few months, and for allowing me to have this fantastic opportunity."
Jason Billam - Plymouth University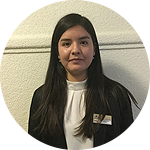 "Thank you very much for everything, you found the internship I really wanted."
Gabriela Arevalo, Swiss Hotel Management School (SHMS)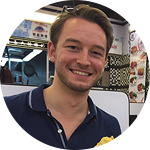 "I arrived at the Sheraton hotel and there are no words to describe how amazing this place is and how well they treat me. I hope my work here makes up for the good treatment I get!"
Alex Smarsch - Oxford Brookes University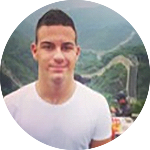 "I would really like to thank you for being so involved in finding my internship. It was a great thing to discover your program."
Marko Djukic - Switzerland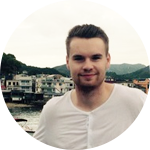 "I have always wanted to travel with my work, and experience different cultures and lifestyles. China is now a place with so much to offer due to its phenomenal growth in the last few decades."
Jason Billam - Plymouth University