Well paid trips for adventurous people who want to work and travel.
If you want to be well paid while living and experiencing life in one of the world's fastest growing economies then look no further than paid teaching in China!
Our Covid-19 Guarantee gives you reassurance and helps you plan ahead in turbulent times. 
Your 120 hour TEFL course
Before arriving in China you will complete a 120 hour TEFL course.
The 120 hour TEFL course will be completed in your home country before starting your trip to China and is included in our paid teaching in China programme.
The TEFL course equips you with the skills and qualification required to start work teaching in your very own school in China. In addition to this, you will also receive a 2-3 day teacher training course in Shanghai. This is a fun course to ensure you're fully prepared for life in a Chinese classroom!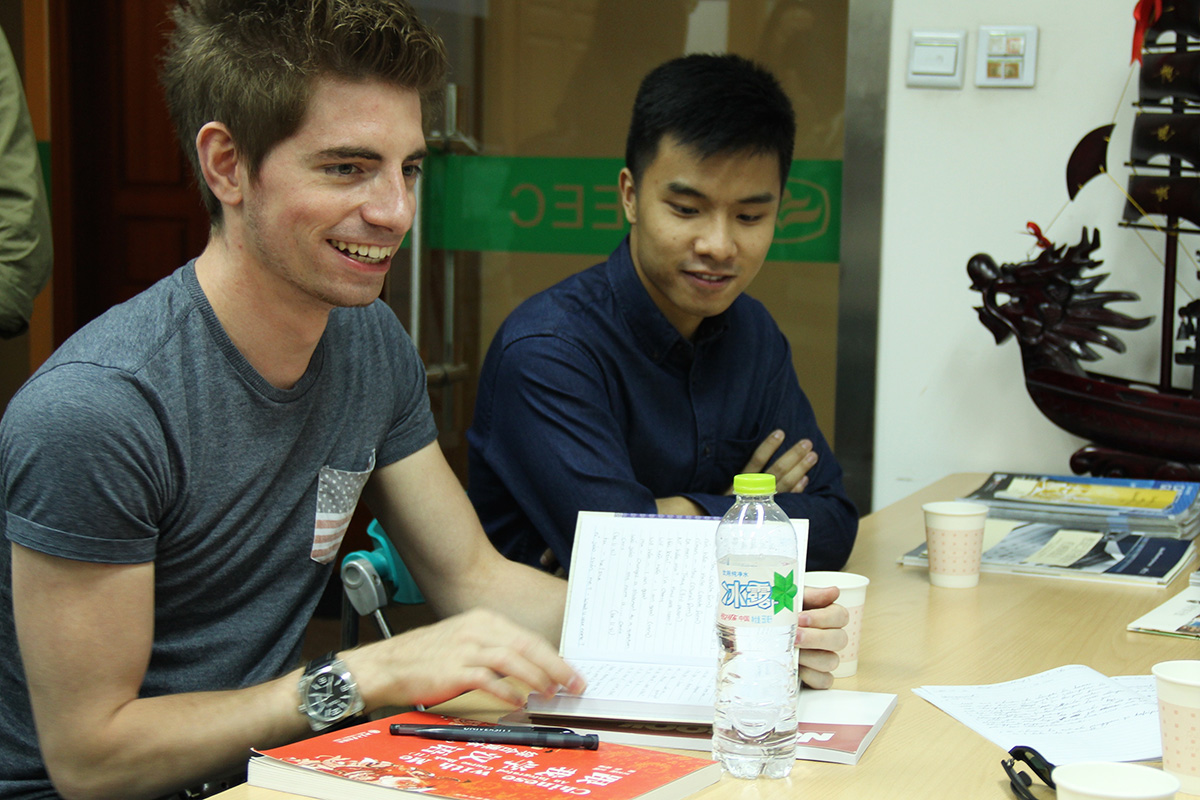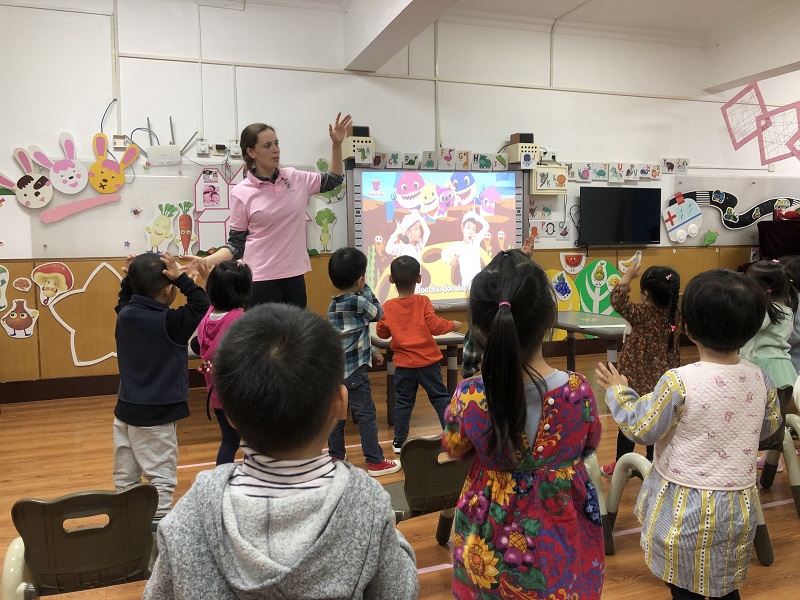 Your paid teaching placement in China
Worried about finding a paid teaching job in China? Don't be. We guarantee you a paid teaching placement in China.
This gives you the certainty of earning between RMB 10,000 and RMB 15,000 (£1,100 to £1,700) per month depending on your degree subject. This means you'll earn between £13,200 and £20,400 for a 12 month teaching placement. Many of your other costs are also covered so you'll either return home with good savings or have a very good quality of life in China.
Our paid teaching placements in China are available in either private language schools (3 to 12 years old), Kindergartens (3 to 6 years old), secondary schools (up to 17 years old). You'll be able to visit several options after arriving in China before deciding which feels best for you.
You will normally work around 40 hours per week; usually 25 hours teaching (which includes teaching, assisting teaching, peer discussion and student reviews) and 15 hours preparation time. Yes, you'll work quite hard but check out (below) the benefits you'll get in return.
Got a question? Contact us now!
Who can join our paid teaching placements in China?
Our paid teaching placements in China are open to people who meet the following criteria:
Good command of English language, both written and spoken.
Be a university graduate and hold a recognised bachelor's degree.
Aged between 20 and 40 years old.
Adaptable to new and unpredictable situations.
Available for 12 months duration. See our Paid TEFL Teaching in Thailand programme for shorter durations.
Be friendly, adventurous, patient and flexible.
No previous teaching experience required.
Contact us if you want to join as an undergraduate.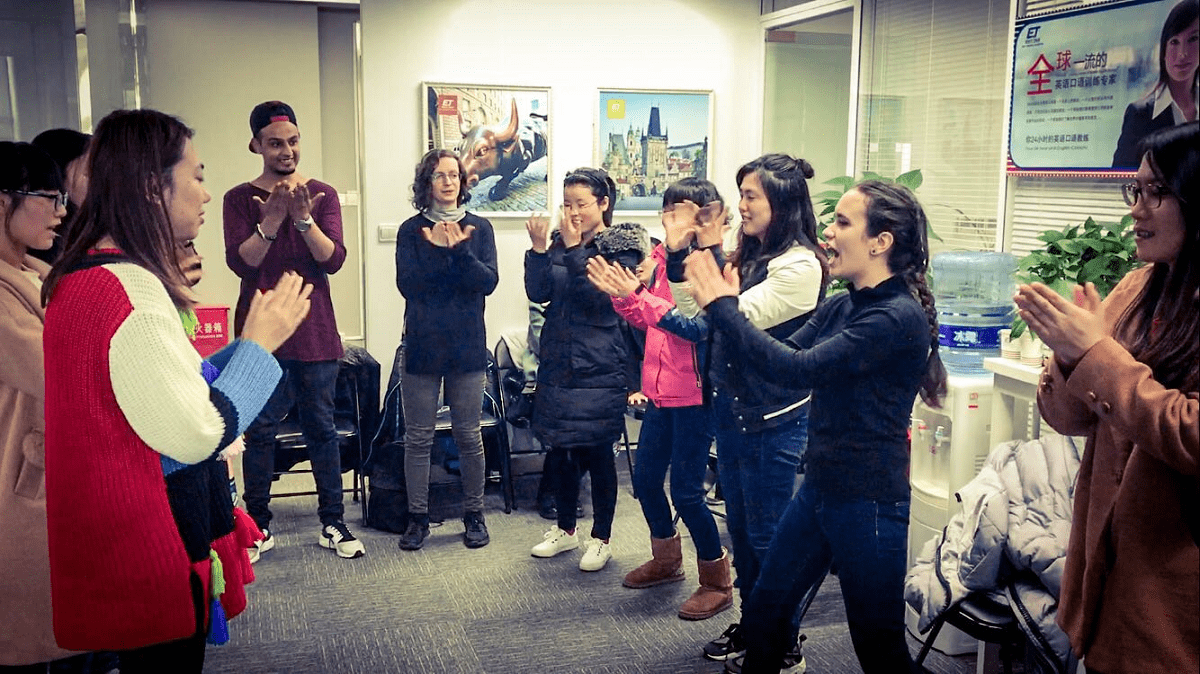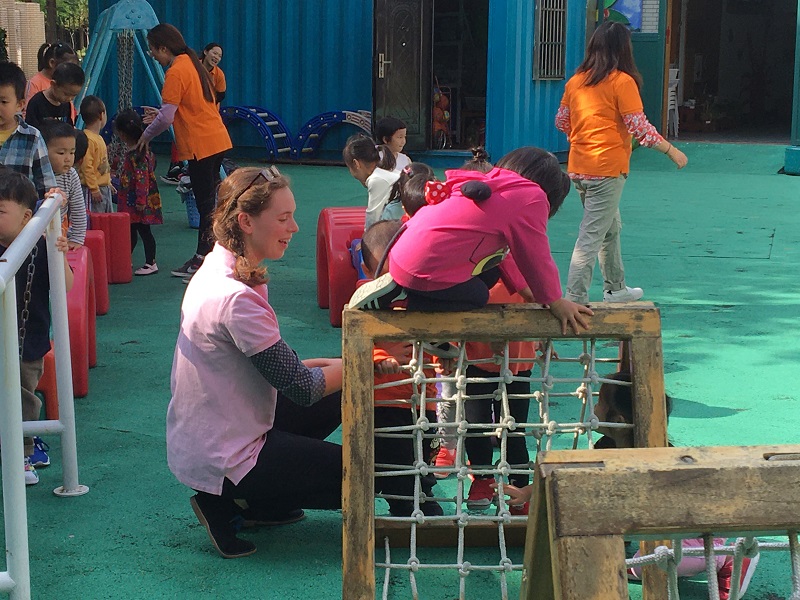 When can you start a Paid Teaching placement in China?
Our start dates are very flexible!
We like to keep things flexible so we give you the choice of when to start. You can choose any month of the year that's convenient to you. The only difficult time is around Chinese New Year (February).
Accommodation
All our interns doing paid teaching placements in China live in private rented accommodation.
Your first few nights will be spent in a hotel in Shanghai while we do your orientation – this is arranged and paid for by us. After selecting your school you will move into accommodation nearby. 
You can either choose to live in the shared apartment provided by the school or you can receive an additional monthly accommodation allowance and then rent your own private apartment.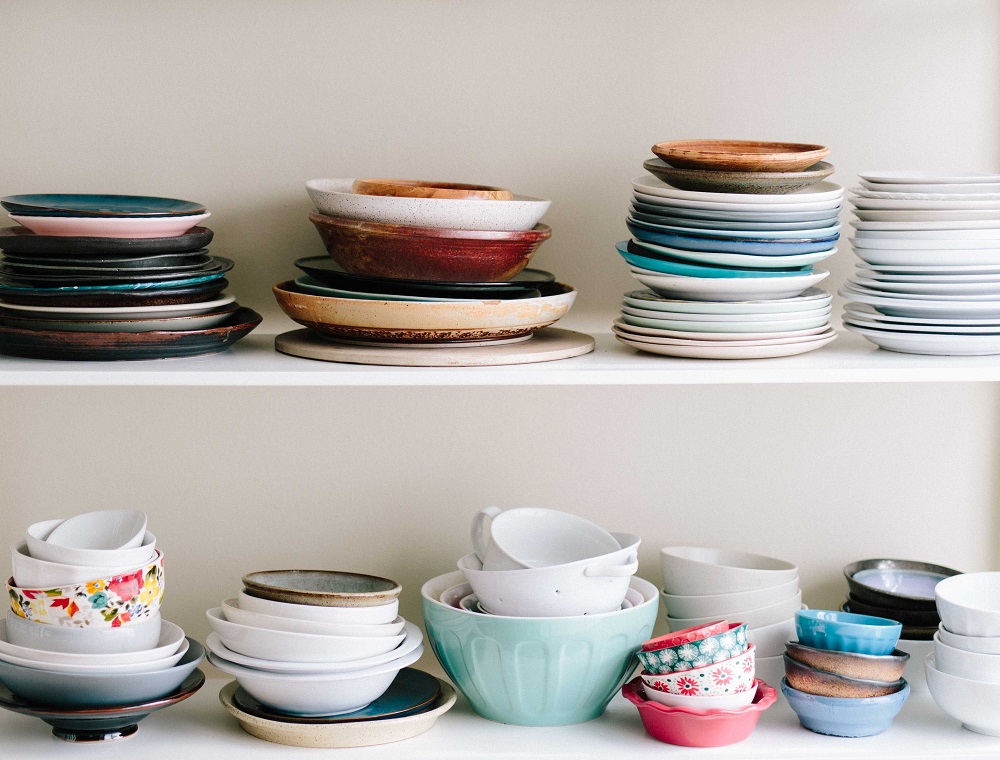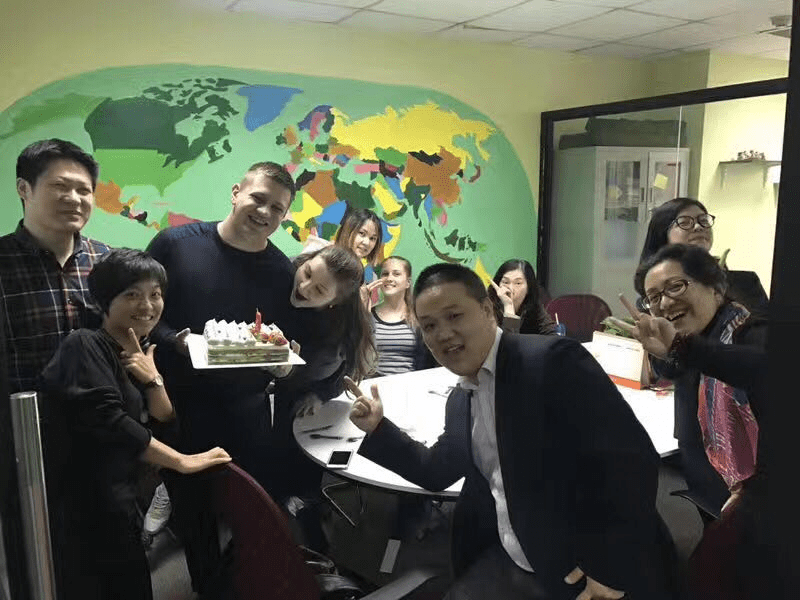 Orientations & Staff support
You will be met on arrival after landing in Shanghai. You will find us waiting for you holding a sign with your name!
Our colleagues in Shanghai will take you directly to your hotel (included free of charge) where you will stay for the first few nights while you have your orientation, tour of Shanghai and 2 – 3 day teacher training course. After this we will settle you into your permanent accommodation (see info above).
You will be briefed about cultural differences and we'll help you adjust to life in a very different (but incredibly exciting!) culture. You will also meet other people on our programme and gradually start to feel more at home. Our aim is to ensure you have an enjoyable and worthwhile trip.
Our colleagues in Shanghai will frequently check on your progress and we are on hand 24/7 for emergencies.
Health and safety
Your safety is our first priority.
Our staff in China complete comprehensive checks before you arrive to ensure everything is ready.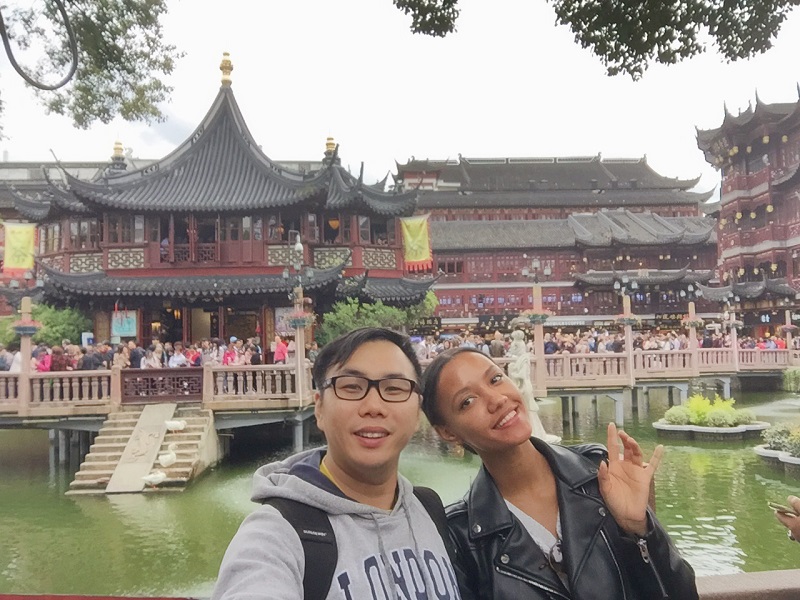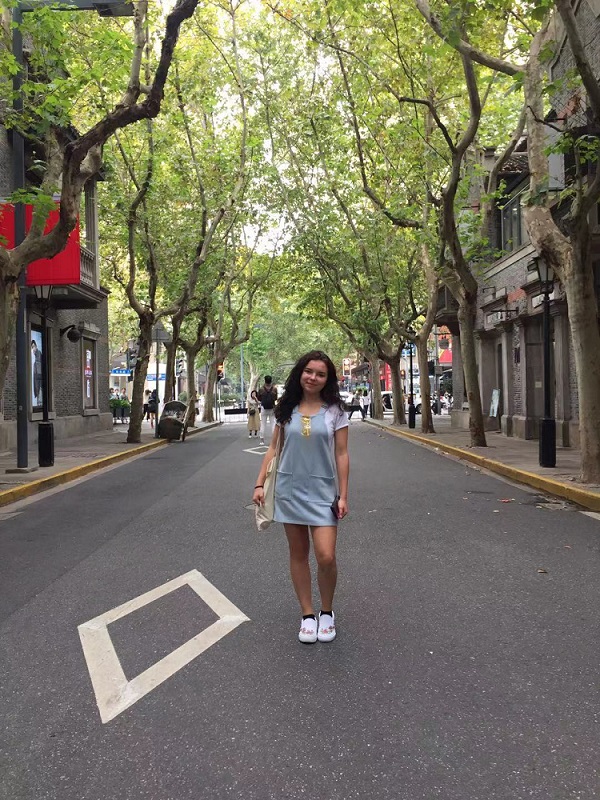 Prices & what's included
It's important to be clear what you'll pay and receive in return.
Please see our main Prices & what's included page for full information.
Remember we'll give you advice about the flight prices, airlines and routes and we'll assist with your visa application.
For our China teaching programme, there are some initial costs before leaving home but these should be covered by your first salary payment. After your first month, you will either be able to save a considerable amount every month or have an extremely good standard of living in China!
We are here to answer your questions. Send us a message or call us on +44 (0)1273 725868.
How do I apply?
It's easy and quick!
Send your CV and Cover Letter to us using our short application form.
Please clearly state in your Cover Letter which destination and type of placement you are interested in.
Got more questions? Send us a message!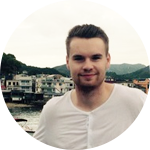 "I wanted to personally thank you for all the help you've given me the last few months, and for allowing me to have this fantastic opportunity."
Jason Billam - Plymouth University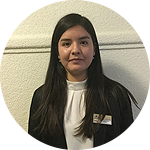 "Thank you very much for everything, you found the internship I really wanted."
Gabriela Arevalo, Swiss Hotel Management School (SHMS)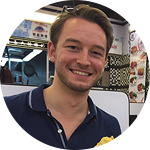 "I arrived at the Sheraton hotel and there are no words to describe how amazing this place is and how well they treat me. I hope my work here makes up for the good treatment I get!"
Alex Smarsch - Oxford Brookes University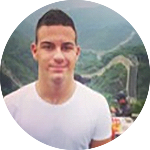 "I would really like to thank you for being so involved in finding my internship. It was a great thing to discover your program."
Marko Djukic - Switzerland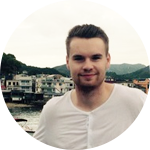 "I have always wanted to travel with my work, and experience different cultures and lifestyles. China is now a place with so much to offer due to its phenomenal growth in the last few decades."
Jason Billam - Plymouth University